Put your HEART into IT
Attention ALL heart-centered entrepreneurs, event planners, local musicians, small business owners, creatives and Twin Citians. Yup, I totally just made up a new term :) You need to know about Anahata Collaborative! The name looks and sounds pretty similar to my name, doesn't it? However, I can't take the credit for this amazing organization. Keep on reading to learn more about what it entails, why I LOVE this spot ... and a special dealio I'm sharing just for YOU!
Some Fun "Anahata" 101: Anahata is known as the fourth heart chakra - according to Hindu Yogic, Shakta and Buddhist Tantric traditions. It is the wellspring of love, warmth, compassion, and joy & the center of deep bonds with other beings. Hence, the Anahata Collaborative heart-shaped logo :)
Voted as one of 2018's Hottest NEW Venue Openings Across the Globe
Anahata Collaborative is your next event space, whether you're planning an off-site or team building meeting, planning a video/photoshoot, hosting a workshop, planning a wedding or private function, or looking for the perfect location for a collaborative or even a solo project. Learn more & submit a request at www.anahatacollaborative.com
So....What Is Anahata Collaborative you ask? Great question!
Anahata Collaborative, owned by the extraordinary & lovely Lara Cornell, is an intimate, beautiful Studio space in the heart of Uptown. The space is open to the general public for hourly rental or for those interested in more regular usage + perks can snatch up the Anahata Patron membership.
A few KEY elements that will leave you in awe: Anahata Collaborative is located ON the Greenway - in the Lyn-Lake area of Uptown with other popular local businesses such as French Meadow Bakery, World Street Kitchen, Jungle Theatre, Common Roots Cafe, Moto-i, The Lynhall, One Yoga all just feet from their door step. Heck yeah!
One of MY personal favorite parts of the space is the STUNNING 14ft high glass garage door that opens up to a garden area and the Midtown Greenway (with bike rack)- you can bet the garage door will be open on those beautiful Minnesota days (totes closed during the Winter, obvi). The huge garage window/wall floods the studio with tons of natural light....perfect for a photo/videoshoot!
But wait there's more! The booming Uptown area is growing so rapidly that some worry about parking. Fear no more! Anahata Collaborative has a FREE parking lot with plenty of spots and additional free street parking if need-be....once inside, guests can access the elevator, high speed fiber internet, plus a charming kitchenette fully stocked with a coffee bar and tea apothecary AND surrounded by 20 ft high exposed beam ceilings, industrial lighting, heat/ac, unfinished cement floors, an art gallery wall with rotating family-friendly art from local emerging artists, and approximately 1700 ft sq available to use. Holy buckets!
If all that hasn't tickled your fancy yet, then how about the deelish sushi spot and Milkjam Creamery just across the street?! Yes, Please.
I promised you a sweet dealio! It's likely you're intrigued and want to get into this gorgeous space...right? You're in luck! ALL THROUGH THE MONTH OF MARCH, ANAHATA SPACE RENTAL IS 50% OFF. Yup, you read that right, HALF OFF. All you have to do is click here to apply, then start planning your event/project.
What about after March?! Since you are a loyal hitatalk fan, if at anytime you're interested in booking Anahata Collaborative Studio you can mention "HitaTalk" and you'll receive 20% off your rental rate. Wahoo!!
You may seen a few videos or photos on my HitaTalk platforms (YouTube, Instagram, Facebook) and you've thought to yourself, OMG that space is stunning! Well, guess what? I was super fortunate to have Anahata Collaborative be our venue sponsor of HitaTalk Season 3, in which the entire season was filmed in THIS space. Side note: I've also attended events here, worked on a separate videoshoot project here, AND hosted my annual Pamper Soiree here. I "Heart" It. Get it? :)
What else should I know about Anahata Collaborative? Funny you ask... there's more to tell you! Anahata Collaborative offers numerous opportunities to make this your next go-to space.
Anahata Studio - Hourly rentals available Tuesday - Saturday for those looking to WOW your team/guests.
Anahata Academy - Anahata has created not only a space but also a resource/educational facet for local creatives & entrepreneurs. The Academy is a year-long curriculum (online and in-person) based around four pillars: business, well-being, unblocking creative flow and inspiration, and doing good. A new class is posted every Monday focusing on one of these four topics.
Anahata Presents - Anahata will begin hosting a "Living Room Acoustic Showcase Series," debuting Thursday, March 22nd, 2018. Music-lovers of all ages are invited to attend these special evenings of live entertainment featuring some of the most passionate and talented singer-songwriters in the Midwest. Ticketing for the Living Room Acoustic Showcase will be limited, so reserve your seats early! Get this...ticket price includes complimentary food and beverage. YES!
Anahata Patrons - YOU can be an Anahata Patron to be involved and support all things Anahata Collaborative year-round. The Patrons Program works similarly to a what most may consider a membership + perks.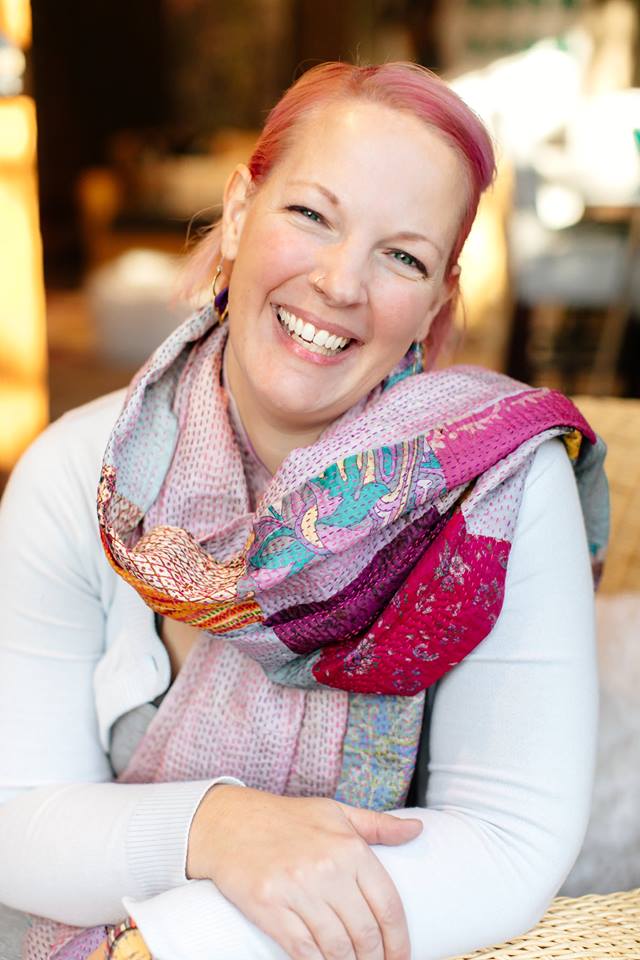 Meet the Owner, Lara Cornell
A Wonder Woman herself....Lara is an: Intuitive Artist, Trauma Informed Yoga Teacher, Ayurvedic Bodyworker, Reiki Practitioner, Certified Flower Essence Practitioner, Herbalist, Aromatherapist, Teacher, Entrepreneur, Maker, Mama, Wife, Moon Follower, Collaborative Enthusiast. Lara teaches at International art retreats in Costa Rica & Morocco, leads her own Art & Flower Retreats in Paris each fall incorporating self care, art and travel. She is President and CEO of Anahata Collaborative LLC in Uptown, as well as the Owner and Artist behind Citrine Studios, LLC.
Connect, Book, Tour, Join or Visit Anahata Collaborative!
More information available on their website at www.anahatacollaborative.com
Facebook: @anahatacollaborative Instagram: @anahata_collaborative
And also check out Lara's AMAZING art and travel projects at laracornell.com
Facebook: @laracornellart Instagram: @laracornellart